About Us
PT Bakrie Sumatera Plantations Tbk remains a sustainable integrated agro-business operating in the business of oil palm plantation and the production of palm oil and its derivatives; oleochemicals processing; and rubber plantation and the processing of natural rubber products and its derivatives. Our production of CPO and PK in Your Company is based on the supply of fresh fruit bunches (FFB) derived from both the nucleus and plasma plantations, as well as from third-party purchases. We operated 5 (five) palm oil processing plants, 3 (three) natural rubber processing plants and 1 processing plants in the Oleochemicals segment.
Learn More
Innovation for Better Plantation
PT Bakrie Sumatera Plantations Tbk which is doing a JV collaboration with its business partner, ASD Costa Rica to establish PT ASD-Bakrie Oil Palm Seed Indonesia (ASD-Bakrie) in order to develop the latest high quality palm varieties which are adapted to local conditions. Formed in 2008, PT ASD-Bakrie Oil Palm Seed Indonesia has been established to expand their production quantity until 20 million seeds per year. ASD-Bakrie is now principally engaged in research, plant breeding, seed production and processing sales and marketing of oil palm seed. ASD-Bakrie promotes greater financial return and opportunity among partners by enabling them to develop, manage and maximize yields of their oil palm plantation.
Planted Palm and Rubber Plantation Area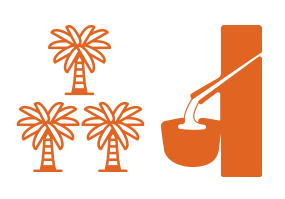 67,714 Ha
Area of Operations
Total Employees
7,437 people
Production Capacity