About Us
PT Bakrie Sumatera Plantations Tbk is a sustainable integrated agro-business operating in the business of oil palm plantation and the production of palm oil and its derivatives; rubber plantation and the processing of natural rubber products and its derivatives; and oleochemicals processing. Our production of CPO and PK in Our Company is based on the supply of fresh fruit bunches (FFB) derived from company-owned plantations (nucleus), plasma plantations, and purchases from third parties. We operate 5 (five) palm oil processing plants, 3 (three) natural rubber processing plants and 1 processing plants in the Oleochemicals segment.
Learn More
Innovation for Better Plantation
In line with the development of technology and innovations to enhance productivity level, PT Bakrie Sumatera Plantations Tbk in cooperation with ASD-Costa Rica has developed the Seed Garden nursery facility located in Kisaran, North Sumatra. The venture produces premium quality oil palm seeds (DxP Themba, DxP Spring, DxP CR Supreme and DxP CR Ovane) with an expected plant life of 30 years and productivity potentials of 40 tons of FFB per hectare, higher than common seeds which yield 25-30 tons of FFB per hectare. Our focus on productivity enhancement has also been conducted through Bakrie Agricultural Research Institute (BARI).
Planted Palm and Rubber Plantation Area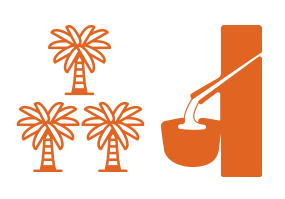 68,082 Ha
Area of Operations
Total Employees
7,633 people
Production Capacity